Don't wait to banish chaos & overwhelm
WANT TO Banish the chaos and overwhelm in your life SO YOU CAN FINALLY feel calm and in charge of daily life tasks?
Unlock our proven and tested bundle that includes the ADHD Zones of Energy, Wheel of Life, and Not-to-do-list templates, Self Talk Video Series and Designing an ADHD Morning Routine e-book and accompanying workbook that are expertly formulated for the ADHD brain struggling with getting things done so it can exist in the neurotypical world without feeling overwhelm and failure.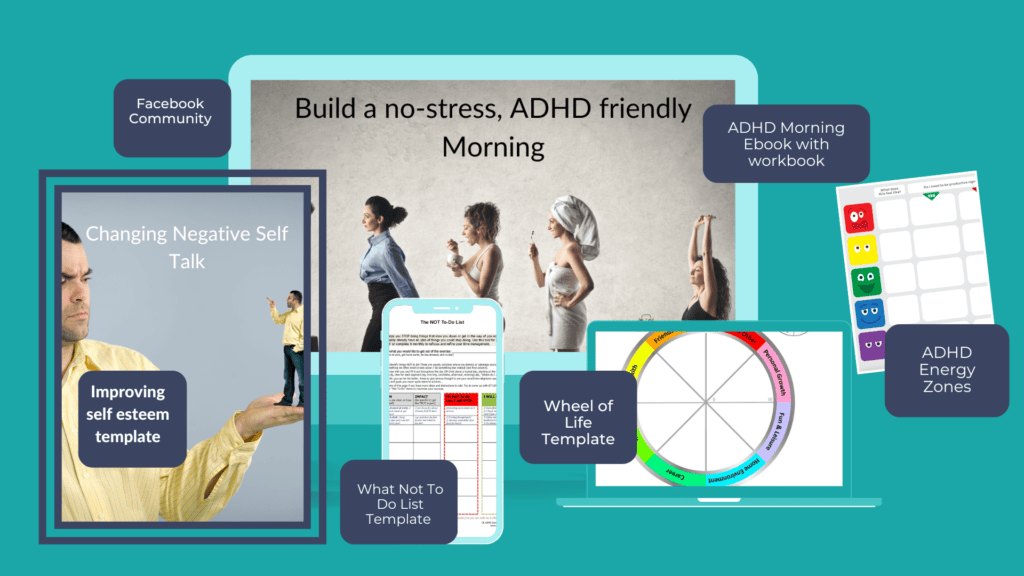 Right now, there is a big problem.
Maybe you were diagnosed with ADHD as a kid.  Maybe you have only known for a year.
But, you have been trying all your life to fit into the neurotypical world that surrounds you.
But even with good intentions, you struggle.  
The day starts off in a chaotic rush, and your stress and frustrations carry over to your family.  
You feel like you are saying yes to everything for other people and no to things for yourself.
You check your to do list for the day and yet you find yourself doing everything but the stuff on your list.
You have a big project to complete for work but you feel your ADHD brain going a million miles an hour.  How will you ever be able to focus on that project.
As you go through your day, you find yourself you keep adding to the list of negative feedback for yourself.  "Why didn't you plan better?"  "How can you keep doing this?" 
Seems like just having good intentions isn't enough.
So you need tools or plans… 
But what can you do to work with your ADHD brain? 
And how do you know what changes will help? 
Let me introduce you to the: 
ADHD LIFE HACK BUNDLE 
The Ultimate Bundle of tools to help your ADHD Brain find a plan to get stuff done without chaos or overwhelm.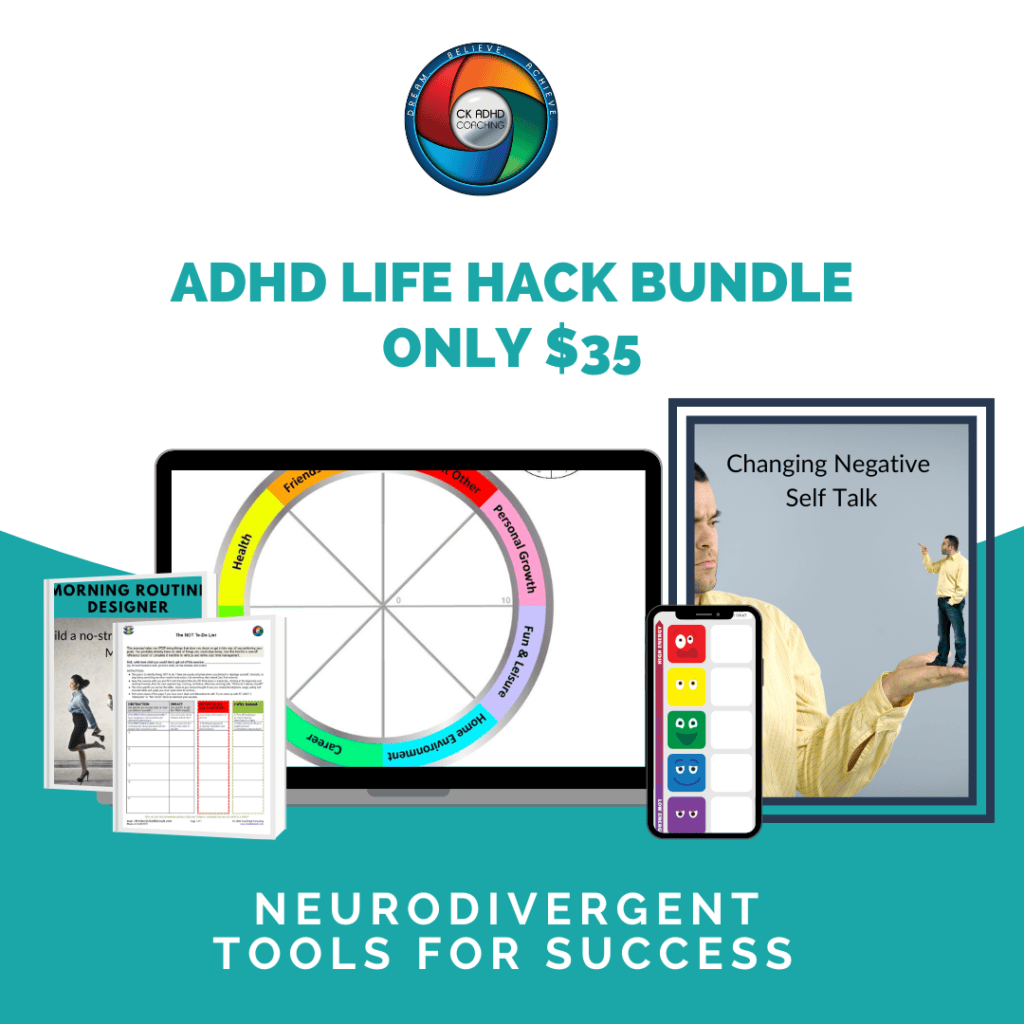 Why buy the ADHD Life Hack Bundle?? 
Create Balance –

Quickly and graphically identify the areas in your life that you want to devote more energy, and understand where you might want to cut back.

Wouldn't you like to CHOOSE how you balance your life instead of having it balanced for you??

Proactive energy planning –

If you need to be productive but have low energy, you need to have a proactive plan for how to increase your energy.  Imagine showing up to each task or project you have with the Goldilocks (just right) level of energy.  Not too much and not too little!! 

Manage your Not-to-do list

– Often our to do lists get hijacked by the things we don't need to be doing but our brain just can't help itself!  When we manage the things not to do, we work on our to do list much easier! 

Improve your self talk

– Your ADHD brain may spend more of its time talking putting you down, telling you that you aren't good enough, that you can't do this or that.  If you can learn to change the negative talk, imagine the change in your life and those around you! 

Peaceful Mornings

– Your ADHD households may experience chaotic and rushed mornings.  But

mornings matter – a good one can set you up for a great day, and a bad one can ruin the day – so it's important to give mornings the attention they deserve.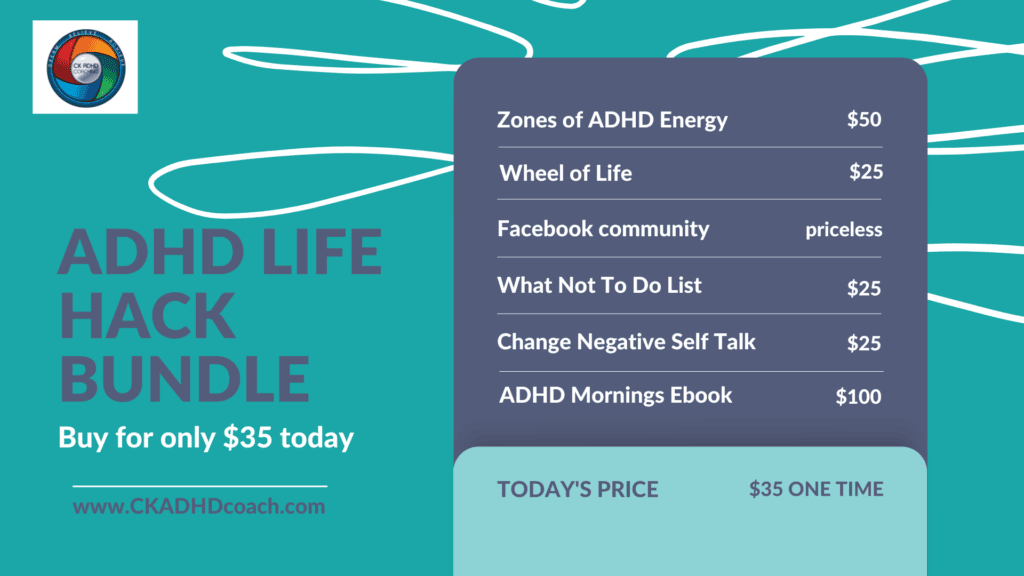 Zones of ADHD Energy 
(Value: $50)
The Zones of ADHD Energy template provides a framework for proactively managing your energy.  Using the framework you can increase your awareness of your different energy levels.  
Wheel of Life
(Value: $25)
The Wheel of Life is used to give you a great helicopter view of what is – and isn't – working for you in life. Your attention is often pulled in many directions: work, kids, social media, aging parents, the list of life categories goes on.
In our fast-paced society, it's easy to lose the balance that your ADHD brain needs. So, you can easily neglect important areas in our lives that bring us meaning and fulfillment. Being aware of your current balance allows you to make choices on how to spend your energy.
What-Not-To-Do List 
(Value: $25)
 This exercise helps you STOP doing things that slow you down or get in the way of you achieving your goals. You probably already have an idea of things you could stop doing. Use this tool for a one-off 'efficiency boost' or complete it monthly to refocus and refine your time management. 
Self Talk Video Series
(Value: $25)
In the world of ADHD, many find themselves using harsh words and ideas.  Unfortunately these are turned inward as negative self-talk.  Your mind fills with self-sabotaging, glass-half-empty thoughts about everything from abilities to appearance.  This worksheet template will provide insight and strategies to move toward more positive self talk.  You can become who you say you are, so say positive things.
Designing Your ADHD Morning Ebook with Workbook
(Value: $100)
Don't struggle with ADHD mornings another minute!  Use the ideas in this ebook to design your very own ADHD friendly morning routine for yourself (and your kids)! The workbook will help you gather your ideas.  Never start your day stressed and frustrated by an ADHD morning again.
This Bundle is easily worth over $225
But wait.. there's more 😉 
BONUS: Facebook Community for Customers Only
(Value: Priceless) 
If you buy the ADHD Life Hacks Bundle before Nov. 30th, you will also get an invite to our new BONUS Facebook community.  This is where you can get answers about using the tools in the Bundle and share ideas with other Bundle purchasers.   
Summary of what you get For $35
Zones of ADHD Energy (Value: $50) 
What-Not-To-Do List (Value: $25) 
Wheel of Life (Value: $25)  
Changing Negative Self Talk(Value: $25) 
Designing Your ADHD Morning Ebook and work book (Value: $100)
Facebook Community for Customers Only (Value: Priceless) 
TOTAL VALUE: $225
Today's price: ONLY $35
ABOUT CHRISTINE
Christine Kotik is the owner of CK ADHD Coaching & Consulting and a Professional Certified Coach (PCC) through the International Coaching Federation. Since 2009 she has worked tirelessly to empower individuals with ADHD to thrive in a neurotypical world while helping to educate the public on ADHD and Executive Functions. She serves on the Board of Directors of the ADHD Coaches Organization and is a Professional Member of CHADD and ADDA.
She works with individuals, from students to adults, to improve results by managing ADHD struggles and building on natural strengths. Building self-knowledge around how ADHD gets in the way, uncovering strengths, and developing strategies and skills increases success in academics, social settings, relationships, and employment. Christine is action-driven with a total ADHD understanding.  While there might be a big end goal…we start with much smaller goals …  and build on one success to fuel other successes.  She is not "treating," "curing," or "fixing" people. She is helping them find the game plans that will allow them to maximize their natural born potential and thrive in a neurotypical world!  
How will I receive the bundle?
After completing your purchase, you will receive an email with links to download all of the files in the bundle.
Can I share this bundle?
You can share this bundle with those in your household. You do not have permission to share this bundle to friends and colleagues. If you think they would be interested, please share a link to this page!
What is the refund policy?
Because this is a digital product, there are not refunds given.
Who is this bundle for?
Anyone could use this bundle. Those with ADHD will get the most benefit since is is designed with ADHD brains in mind. It is suitable for men and women, parents, and students.